The home lab is pretty small (32GB ram between two hosts) so being able to reduce the overhead of software/virtual machines allows me to get the most use out of the limited resources. The upgrade to vSphere 6 recently brought with it the updated vCenter virtual appliance that has new requirements for it's use cases (tiny/medium/large). Also in the changes was the use of dynamic memory allocation detailed by William Lam here, introducing more gotchas whilst trying to tailor the VCSA deployment.
I decided to see what I could do to get my VCSA 6 to use a more conservative 4GB of ram, which had always been OK for VCSA 5.5. After enabling shell access and having a poke around I could see that the second largest utiliser of memory inside the VCSA was the vmware-vdcs process, which was the VMware Content Library process.
chkconfig vmware-vdcs off
This immediately shaved off around 1GB of ram utilisation, so a quick test had my vCenter running happily at around 4.5GB allocated (minimal swapping during the VMware services starting.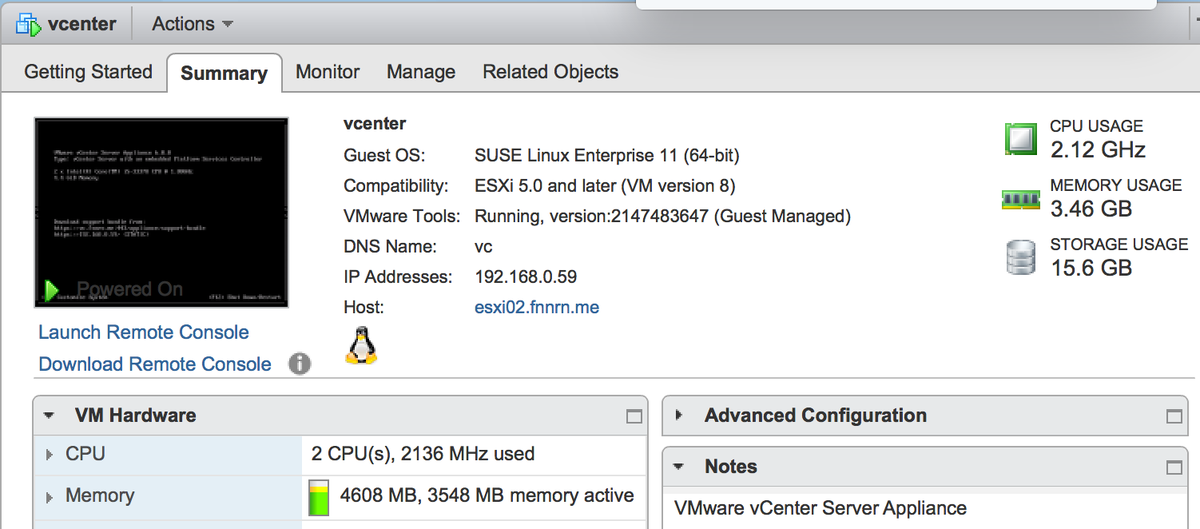 Examining what remains..
I've taken the output from my modified VCSA 6.0 (reduced to 4.5GB) through the top command and then graphed it so that it's easy to examine what is left. Note: The other processes mainly consisted of postgres handlers and vmware-vws processes, and the appliance had been up for 12 hours at which point memory utilisation had settled down and was actually around 3.8Gb.
As shown below:
vc:~ # free -m
total used free shared buffers cached
Mem:         4465  4245 220  56     21      406
-/+ buffers/cache: 3817 648
Swap:         26619 434 26185
 Remaining processes (Identified as VMware processes)
| | |
| --- | --- |
| vmware-cis-license | VMware CIS License Service |
| vmware-cm | VMware Component Manager |
| vmware-eam |  VMware ESX Agent Manager |
| vmware-invsvc |  VMware Inventory Service |
| vmware-mbcs |  VMware Message Bus Config Service |
| vmware-netdumper |  VMware network core dump server |
| vmware-perfcharts |  VMware Performance Charts Service |
| vmware-rbd-watchdog | |
| vmware-rhttpproxy |  VMware Reverse Proxy |
| vmware-sca | VMware Service Control Agent |
| vmware-sps | VMware vSphere Profile-Driven Storage Service |
| vmware-sts-idmd | |
| vmware-stsd | VMWare Security Token Service (jsvc process) |
| vmware-syslog | VMware Syslog Service |
| vmware-syslog-health | VMware Common Logging Service |
| vmware-vapi-endpoint | VMware vAPI Endpoint |
| vmware-vdcs | VMware Content Library Service |
| vmware-vpx-workflow | VMware vCenter workflow engine |
| vmware-vpxd | VMware vCenter server |
| vmware-vsm | VMware vService Manager |
| vmware-vws | VMware Server Health Service |
| vsphere-client | VMware vSphere Web Client |